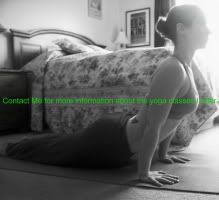 Lerin Berwick lives in Taylorsville and has been practicing yoga for 10 yrs. She loves to share her passion and knowledge of this ancient form of exercise to anyone who wants to learn. She offers yoga classes from her home or yours. She works one-on-one and with small groups.
She will tailor her time with you to meet your specific needs, whether you have done yoga on your own and just need a little guidance or have never even tried it before and have little to no flexibility. She is also trained to work with specific physical needs.
Pre-natal
Post-natal
Senoirs
All poses can be modified to be appropiate for any health conditions.
She offers Power Yoga and Relaxation classes for groups and can work out a tailor-made session for one-on-ones. Visit her blog for contact information.